We Donated a D90 S!!!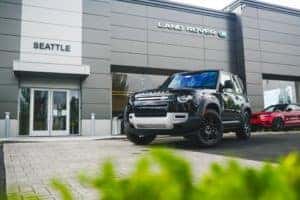 Al Monjazeb of Jaguar Land Rover Bellevue & Seattle marks the 20th anniversary of his Jaguar Land Rover Bellevue and Seattle dealership by donating a 2022 Land Rover Defender 90S to Mona Foundation.
"I have two daughters and was raised with four sisters, so, automatically, I have a tendency to 'root for females' to get a fair shake on everything life offers," said Monjazeb. "I have also spent a great deal of time overseas and had the opportunity to witness how young girls across the globe are eager to learn and grow. Yet, many are unfairly held back. The Mona Foundation's mission of supporting education for all and empowering girls and my own creates a perfect marriage. As an annual supporter of Mona Foundation, I knew that my anniversary celebration needed to have this critical organization in the passenger seat," said Monjazeb.
Monjazeb selected the hard to get 2022 Land Rover Defender 90 S as his donation item for the September 2021 Mona Foundation Live Stream Gala.
All profits from the 2022 Land Rover Defender 90 S auction donation will go to the Mona Foundation.
"Until 2020, the Defender had not been available in the United States for 23 years," said Monjazeb. "The retro, nostalgic, and sophisticated Defender is in a class of its own."
Based on 70 years of innovation and improvement, the 2022 Land Rover Defender 90 S is a rugged vehicle built for the 21st century. The three-door SUV boasts a sleek black exterior and a rich ebony interior. The all-wheel-drive, five-passenger Defender has unparalleled off-road ability and has an MSRP of $57,490. Featuring a 296-horsepower I4 turbocharged Ingenium engine, this vehicle is also equipped with a sliding panoramic sunroof, an 11'4" infotainment touchscreen, an air quality sensor, and cabin air ionization.
For further specifications, please find a link to details below from Car and Driver Magazine:
https://www.caranddriver.com/land-rover/defender/specs/2022/land-rover_defender_land-rover-defender_2022/420421
"I know Al's incredibly generous Defender donation will help accelerate our 2021 auction goals," said Mahnaz Javid, President and CEO of the Mona Foundation. "I am truly honored and humbled for his help in steering our fundraising goal success, plus he's a fantastic partner to have along for the ride."